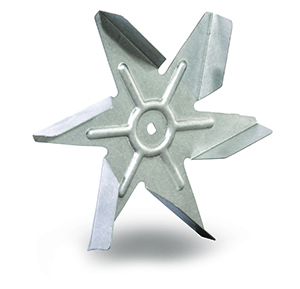 6 to 12 Pedal Blades
Ranging from 1.75 to 6.375 inch (92 and 259 mm) Diameters
Beckett Air radial fans are ideally suited for OEM applications requiring limited space and 90 degree airflow. Our radial fans are built with sturdy one-piece construction and are available in clockwise, counterclockwise or bi-directional rotation as well as several material and mounting choices. Beckett Air's radial fans are the ideal solution for motor cooling and heat dissipation. They are found in all types of food preparation equipment, such as perimeter air circulation in convection cooking equipment and, in HVAC applications like a draft inducer on pellet stoves.
Radial fans listed here are available in a wide range of styles and diameters from 1.75 to 6.375 inch (92 and 259 mm).
Click here for a complete list of standard diameters and blade widths or go to Request for Quotation for a specific fan diameter other than those listed.