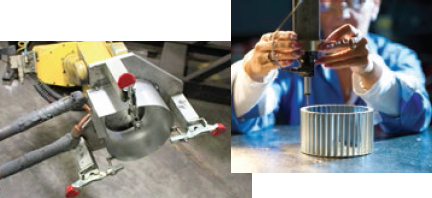 Because of Beckett Air's unique combination of airflow optimization and experise in metal fabrication and automated assembly, we offer a complete range of services for the cost effective design and production of airflow systems including blower housings, blower decks and fan shrouds.
Click here to download in PDF format.
Housings:  Superior blower efficiency is the result of our design process which includes consideration of all performance factors (CFM, pressure and low noise, etc.) as well as optimal cost.  Manufacturing efficiency results from automated assembly utilizing welding robots for higher volumes.  We also offer an extensive range of housings, inlet rings, outlet collars and accessories that are manufactured to industry-standard dimensions and are available in a variety of material choices.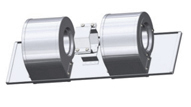 Blower Decks:  Beckett Air's precision design and fabrication of blower deck components make for easy to assemble components that deliver optimal air flow performance.   Having all preliminary designs assembled and tested in our lab assures that our blower decks will meet customer expectations.  Multiple blower assemblies can be placed side by side on one plenum to provide a wide airflow.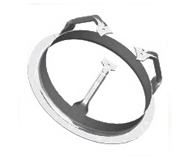 Fan Shrouds:  Beckett Air's focus on the mechanical and structural interfaces of the entire fan shroud assembly assures reduced noise, vibration and maximized CFM.  All designs are tested in our lab and approved as meeting performance expectations.
Let us custom build your airflow system. Call one of our engineers 1-800-831-7839 to discuss your application's specific needs.